A warm welcome to Chris Helme and his Sunday Bandstand programme.
Every Sunday at 2pm - A full two hours of band classics, favourites, stories and much more.
Have you got a request then let Chris know by emailing him on [email protected]
Want to listen to past shows then go to www.chrishelme-brighouse.org.uk
Find out more below about Sunday Bandstand and Chris Helme.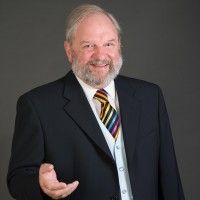 For thirty years Chris Helme was a serving Police Officer in the West Yorkshire Police, in the North of England and was awarded the British Empire Medal in 1990 for his service to the community.
He has written / published seven local history books, his latest being about the lighter moments in his police service. He has also written a weekly nostalgia column for his local newspaper the 'Brighouse Echo' for over thirty years. He has produced a sixty-minute nostalgia recording based on a number of the stories from his column. He has also written a number of articles which have been published in UK regional magazines. For almost twenty years he was the editor of the quarterly 'Talking Newspaper Magazine' in Halifax, West Yorkshire. For five years he was the editor of The Conductor, the in-house magazine of the Natioal Association of Brass Band Conductors.
In 2007 having just completed his latest local history book, a local community radio station asked him for an interview about the new book. It was during his visit to the station that he was approached about presenting a weekly brass band programme. This was something he had never done before, but remembering that there is no such word as 'can't' - it is better to try and fail than not try at all. 'Why not', he thought, and after being given some tuition Sunday Bandstand went live in December of 2007 on Phoenix Radio FM96.7 in Halifax, West Yorkshire. Since then the programme has grown from its original one hour to the present two hour show.
Not long after the show started other community radio stations asked if they could play the programme on their station. Chris was very pleased just to be asked, and steadily over a period of time a number of other licensed stations wanted to air the show.
From originally being a live programme, to ensure all the requirements are in for the various different stations the show is now pre-recorded. It is now played on nine licensed community radio stations in the United Kingdom, and on five licensed community radio stations overseas which includes: New Zealand, Australia, Cyprus, USA and Expat Radio, which is based in France and is a new station which is proving to be very popular amongst the expat fraternity around the world.
To choose the music and put the show together is something that Chris takes a lot of time over. Each hour of the show he treats as almost two separate brass band concerts and then joins them together. He is often complimented by many listeners for the diversity of music ranging from modern popular music to the older brass band classics. The soloists on the show range from the star players of today to some vintage performances from the great players of the past.
The show is always open to requests and questions about the world of brass bands from listeners. Why not let us share a couple of tracks from your band's latest CD, where we can promote the CD and your band's website. Perhaps you have an amusing brass band moment and would like to share it, please contact Chris through E-mail: [email protected] and we look forward to hearing from you.
Enjoy the show